Current and Past Parish News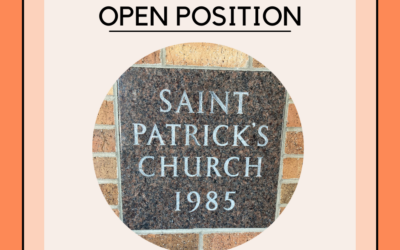 Pastoral Minister/Director of Religious Education
Position Available: June 1st. 28 Hours per week
St. Patrick's Parish is looking for an energetic and enthusiastic individual to join our Parish staff.
Duties include:
Coordinating the Youth Faith Formation Program PreK through 12th Grade.
Coordinate safe environment trainings and diocesan requirements.
Recruit and Support Volunteer Catechists. Organize and support Sacramental Preparation activities.
Support Youth Ministry Activities (Retreats, Service Projects, etc.)
Provide Pastoral Ministry to Parishioners. Visit the Homebound, work with families to plan funerals, reach out to Parish newcomers. Work with Pastor on adult enrichment opportunities. I.E. Grief Groups, Young Moms groups, etc.
Coordinate Music Ministry scheduling and planning.
For information and to apply contact the Parish office.
Part time, hourly, 28 hours per week.
Job sharing may be possible.