Current and Past Parish News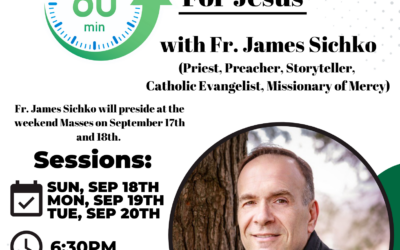 Join us for a Parish Mission session on Sunday, September 18th, Monday, September 19th and Tuesday, September 20th at 6:30 PM at St. Patrick's Church.
60 Minutes for Jesus – presented by Fr. James Sichko, priest, preacher, storyteller, Catholic Evangelist and Missionary of Mercy commissioned by Pope Francis in 2016.
Fr. James Sichko will preside at the weekend Mases on September 17th and 18th.
The whole family is invited to attend our Parish Mission!