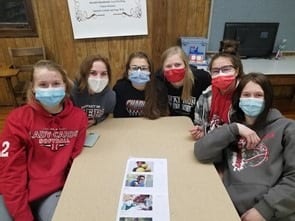 Every year St. Patrick's Catholic Church holds the annual "Pine Bough Bazaar". They receive donations from area businesses to raffle off at this event. This year the "Bazaar" was cancelled due to COVID 19, but the Freshman Faith Formation class went ahead with the raffle. This year they chose to donate all the funds to 3 areas that help feed the poor. The services provided by these organizations are valuable and necessary in our present-day circumstances. When they thought of all the people that these organizations have helped already and think of the vast number of people still in need, they were strongly compelled to help support these good causes. Donations of $365 each went to 'Closer to Home', 'the Good Shepherd Food Pantry' and 'Food for the Poor'. The items they ordered for 'Food for the Poor' consisted of 1 goat (to give milk), 3 piglets, 6 fruit trees, 20 chickens, and 200 pounds of rice and beans. Pictured from L-R: Meradith, Gabby, Fia, Demi, Lucy and Kenli. Not pictured – Cody, Aubrey, Kenzie & Chayse
Religious Formation at St. Patrick's includes religious education for grades Preschool through 10th grades as well as 11th grade confirmation preparation.
Registration forms for Faith Formation can be obtained by contacting the parish office 432-2626 or by sending an email to Sandi Schiaffo our Faith Formation Coordinator using the contact form on our website.
The RCIA program is for individuals who are interested in joining the catholic faith through our Adult Education program.
For more information regarding the RCIA program please contact the parish office or Fr. Todd using the contact form on our website.
Rite of Christian Initiation for Adults (RCIA)

Are you interested in the Catholic Faith?
Would you like to learn what the Church teaches and why?
Are you considering becoming Catholic?
If you answered YES to any of the questions above, than R.C.I.A. is for YOU!!!
For centuries, people have turned to the Church to find the answers to the deepest and hardest questions of everyday life.The Rite of Christian Initiation of Adults is the process given by the Church for the formation of adults in the faith. This is an opportunity for you to share your faith journey with others, to learn about the Catholic faith, and to experience the life of the Church community.
For more information please call the Parish Office at 308.432.2626 and schedule an appointment with Fr. Todd K. Philipsen.  You may also email him by using our website contact form.