Meals of Hope Food Packing Event 2022
Great Big Beautiful World VBS 2022
Welcome to St. Patrick's Parish:  We are glad you are here!
Get Involved In Our Ministries
Adult & Youth Religious Education
SATURDAY:     5:30 PM
SUNDAY:         9:00 AM
MONDAY:      No Mass

TUESDAY:      5:30 PM*
THURSDAY-FRIDAY:      10:00 AM*
*Check bulletin for weekly changes.
SATURDAY:     4:00-4:30 PM
Also available by appointment by calling the parish office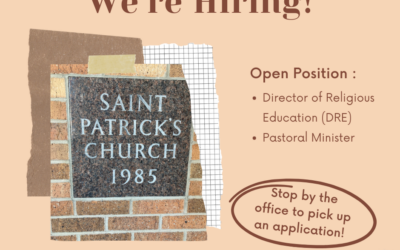 We are still accepting applications for our Pastoral Minister and Director of Religious Education (DRE) position. Help us spread the word! If you, or someone you know might be interested in this...
read more